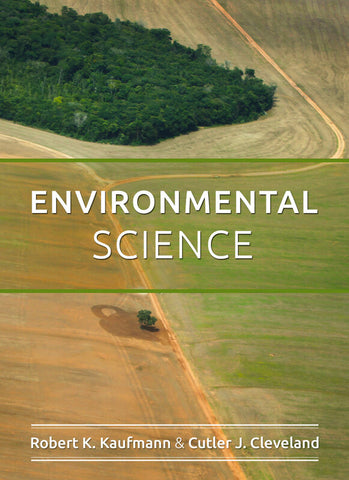 - Environmental Science - Purchase for Individual Use (NOT FOR A COURSE)
Important: If you are a student interested in purchasing a copy of this book for your class, you should search for your school, course name, or professor. Each instructor has a unique book created for their course, which you will not be added to if you purchase this version of the text. Digital textbooks on the Trunity eLearning platform also include interactive quizzes and other material for your class, so it is very important that you purchase the correct course.
If you are a student, please click here to find your course.
If you are an educator planning on adopting this book for your class, please click here to request an examination copy.
---
Overview
Environmental Science, by Robert Kaufmann and Cutler Cleveland, is the world's first introductory textbook that is entirely online. Environmental Science provides thorough coverage of the key topics in environmental science, and integrates ecology, economics and policy using energy and material flows and a systems perspective. The science underlying sustainability is simply told through examples of cutting-edge content and real-world applications.
Environmental Science takes advantage of the latest technologies to transcend the traditional textbook to create engaging, interactive content that utilizes video, electronic highlighting, social networking, image galleries, powerful customization tools, and other features that only the Web can provide. As you explore this text, you will also be able to take advantage of the distinctive learning tools in each chapter:
Student Learning Outcomes
Policy in Action Examples
Case Studies
Key Concepts
Review Questions
Web-Based, Device Agnostic
Highlighting and Annotations
Online Glossary integrated into Text
---
Table of Contents
Ch 1: Env. and Society
Ch 2: Energy and Matter
Ch 3: Systems
Ch 4: Physical Systems
Ch 5: Energy in Biology
Ch 6: Material Cycles
Ch 7: Biomes
Ch 8: Succession
Ch 9: Carrying Capacity
Ch 10: Ecological Economics
Ch 11: Driving Forces
Ch 12: Fossil Fuels
Ch 13: Nuclear Power
Ch 14: Renewable Energy
Ch 15: Biodiversity
Ch 16: Climate Change
Ch 17: Ozone Depletion
Ch 18: Water
Ch 19: Air Pollution
Ch 20: Materials and Wastes
Ch 21: Health and the Environment
Ch 22: Urbanization
Ch 23: Soil
Ch 24: Food and the Environment
Ch 25: Forests
Ch 26: Sustainable Future

---
About the Authors
Cutler Cleveland and Robert Kaufmann bring the breadth and depth of their research and teaching experiences to the study of environmental science. Visit the Instructors sample chapter to learn more about the authors.
---
We Also Recommend